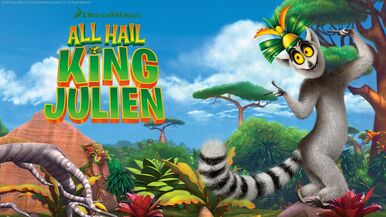 All Hail King Julien (also known as All Hail King Julien: Exiled for the fifth season) is an American computer-animated comedy television series. It stars characters from the DreamWorks Animation animated film Madagascar. It stars the main three lemurs; King Julien, Mort and Maurice from the Madagascar franchise and takes place in Madagascar and before the events of the first film making it a prequel. It is the second DreamWorks Animation show to be based on the Madagascar franchise.
Why It Rocks
It is a prequel to the first Madagascar film, taking place before the moment where Alex and friends reach Madagascar, and ending when this moment happens.
The animation is an upgrade from The Penguins of Madagascar, due to the larger budget the series has compared to TPoM, and it looks a lot more movie quality. The larger budget also allows for half-hour episodes and storylines compared to the 11 minute episodes of TPoM (Not counting the specials).
It has lots of continuity, with a whole season involving a story arc involving King Julien being exiled.

The fifth season of the series

, was the hilarious parody of HBO's serialized action-fantasy drama series, 

Game of Thrones

.
Likable characters, such as the returning King Julien, Mort, and Maurice, even the new characters such as Timo and Clover are likable.
It is quite funny, especially since King Julien is the star of the show.
The plane from Madagascar 2 appears in some episodes, alluding to the events of that film.
Entertaining and unique storylines.
The final episode was a perfect way to end the series.
It gives Julien's character more depth.
Bad Qualities
The theme song is extremely cringeworthy, since it tries to be hip and cool by being a rap theme song but it fails horribly.
The show suddenly went on hiatus after Season 2. However, this ended when Season 3 became a thing.
Excessive use of fart jokes and similar humor.