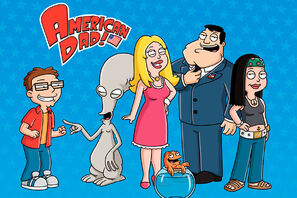 American Dad! is an American adult animated sitcom created by Seth MacFarlane, Mike Barker, and Matt Weitzman for the Fox Broadcasting Company. American Dad!is the first television series to have its inception on Animation Domination. The series premiered on February 6, 2005, following Super Bowl XXXIX, three months before the rest of the first season aired as part of the Animation Domination block, commencing on May 1, 2005.
The series focuses on the eccentric upper middle class Smith family in the fictional community of Langley Falls, Virginia and their three housemates: Father, husband, CIA agent, Republican, and breadwinner Stan; his wife and homemaker/housewife, Francine; their liberal, hippie, college-aged daughter, Hayley; and their dorky high-school-aged son, Steve. There are three additional main characters, including Hayley's boyfriend and later husband, Jeff Fischer; the family's unusual goldfish, Klaus, who has the brain of an East German athlete; and Roger, the alien, who is a deceitful, self-serving master of disguise. Stan's boss Avery Bullock, the Deputy Director of the Central Intelligence Agency, is a recurring character.
Great animation.
Decent voice acting.
Very memorable theme song that proved how faithful it is to the United States.
Some episodes have very epic action scenes.
Clever writing and humor.
Roger the Alien is a great comic relief character.
Good character designs.
Was one of the Seth MacFarlane shows to not make any cutaway gags just for a change.
Great episodes like "Rapture's Delight", "Stan Of Arabia", "Tearjerker", "Rabbit Ears", "American Dream Factory", "Dope And Faith", "Spring Break Up", "Haylias" and "American Dad After School Special"
Many likeable characters.
There were some characters from Family Guy appearing in some episodes of this show.
Some terrible episodes like "American Fung", "The Mural Of The Story", "Stan's Best Friend", and "Love, AD Style".
Minor overuse of incest jokes, especially in the episode: "Pulling Double Booty".
The show went downhill once it moved from Fox to TBS, with attempts at being edgy, severe flanderizations (notably Stan and Francine being reduced to Peter and Lois clones), more bad episodes than good, overuse of gross-out humor, etc.

And WHAT happened in the late-2010s, IT BADLY BROUGHT BY DISNEY!
Community content is available under
CC-BY-SA
unless otherwise noted.