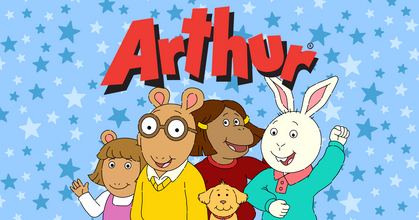 Arthur is a Canadian/American animated television, created by Cookie Jar Group (formerly known as Cinar) and WGBH for PBS. It started in 1996 and is still going to this day.
Plot
The show is set in the fictional American city of Elwood City, and revolves around the lives of 8-year-old Arthur Read, an anthropomorphic aardvark, his friends and family, and their daily interactions with each other.
Why It Rocks
One of the longest-running kids shows in history, running from 1996 and still going in 2018 (despite a hiatus between 1998 and 2000).
Nicely-done animation for the first 15 seasons and okay animation since Season 20.
Awesome and memorable theme song.
Stays 100% faithful to the book series.
It is one of those kids shows that are not "dumbed down" for children, but respects the intelligence of the viewers.
Smart, witty and mature humor.
Every character has realistic flaws, a distinct personality and comes from diverse backgrounds.
Has so many great episodes, such as "Arthur's Eyes", "Arthur Meets Mister Rogers", "Arthur and the Real Mr. Ratburn", "Bully for Binky", "Arthur's Tooth", "Binky Goes Nuts", "The Last Tough Customer", "You Are Arthur", "The Blizzard", "Big Brother Binky", "The Making of Arthur", "The Blackout", "Mei Lin Takes a Stand", "Arthur's Faraway Friend", "Postcards from Buster" (episode), "The Last Day", "Maria Speaks", "When Carl Met George", "The Boy with His Head in the Clouds", "The Great MacGrady", "Arthur Takes a Stand", "To Eat or Not to Eat", "The Wheel Deal", "Buster's Back", "Whistling in the Wind", "The Short, Quick Summer", "Buster's Breathless", "I Wanna Hold Your Hand", "D.W.'s Library Card", "The Contest", "Prunella's Prediction", "That's a Baby Show!", "Arthur's Almost Live Not Real Music Festival", "Elwood City Turns 100!", "April 9th", and the list goes on.
Some episodes don't focus on Arthur alone, they also focus on some of the supporting characters.
Both Buster Baxter and Muffy Crosswire are the most popular characters on the show.

While Buster received

his own show

, Muffy had yet to receive her very own show.

Arthur goes through numerous relatable childhood situations, such as getting too much homework, learning about himself, growing up, being the last kid to lose a baby tooth, accepting people as they are and dealing with a tragedy.
Teaches great messages to children and adults, such as to have fun while you still have to chance, handle your responsibilities carefully and to not forget about your friends no matter how old you become.
Made hilarious pop culture references and parodies, including Titanic, Star Wars, Beavis and Butthead and even South Park.
Even though the show switched to Flash animation, the episodes are still decent.
Guest stars.
It spawned video games, including a PC CD-ROM-exclusive, Arthur's Pet Chase.
Bad Qualities
D.W. and Arthur complaining about each other can get annoying, and D.W. herself can be annoying and despicably unlikable at times.
Being an unbelievably long-running show, while impressive on paper, isn't always a good thing, because it's easy to run out of ideas for episodes, and as a result, some episode ideas are reused. The show also somewhat went downhill, due to the aforementioned reuse of ideas and lazier animation (as said below).
The Flash animation in Seasons 16-19 is terrible. Thankfully, it has improved as of Season 20.
Kate's crying (which is actually a sound effect by Sound Ideas) can be irritating.
It can be mean-spirited towards Arthur, as he's getting tortured by his sister D.W., sometimes gets mistreated by his friends, always getting into trouble, go through the pain of listening "Crazy Bus", and other bad stuff happening to him for no reason.
There are a handful of bad episodes, such as "D.W.'s Very Bad Mood", "Arthur's Big Hit", "Arthur the Loser", "Nerves of Steal", "So Funny I Forgot to Laugh", "Cast Away", "More!", "Brother, Can You Spare a Clarinet?", "A is for Angry", "Citizen Frensky", "Arthur, World's Greatest Gleeper", "Arthur Accused!", "D.W., the Picky Eater", "Play it Again, D.W.", "Vomitrocious", "Bleep", "D.W. All Wet", "MacFrensky", "Through the Looking Glasses" and the list goes on.
Continuity errors.
Two episodes that featured Lance Armstrong rarely air due to the doping scandal.
Speaking of Video Games, Two of them were made and they are pretty awful. One for the Game Boy Color and One for the PlayStation 1.
The 2006 movie Arthur's Missing Pal was poorly received.
Reception
The series has been acknowledged with the George Foster Peabody Award and four Daytime Emmy Awards for Outstanding Children's Animated Program.
It was rated 7.4 out of 10 on IMDb and 8.5 out of 10 on TV.com.
While the series is very popular in Israel, the popularity of the character, Muffy Crosswire, in the United States was great.