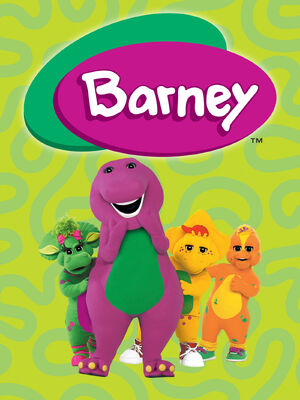 Barney & Friends is an American children's television series created by Sheryl Leach and produced by HIT Entertainment. The series ran on PBS from April 6, 1992 to November 2, 2010.
Plot
The series features the title character Barney, a purple anthropomorphic Tyrannosaurus Rex who conveys educational messages through songs and small dance routines with a friendly, optimistic attitude.
Why These Seasons Rocks
The show promotes strong positive messages about friendship, teamwork, cultural appreciation and problem solving. It also emphasizes active play.
Barney is a very appealing role model for little kids with his friendly and optimistic personality.
Catchy songs that help encourages kids to stay active.
Baby Bop (green), BJ (yellow), and Riff (orange) are really cute.
Good acting from the child actors.
The show sometimes tackles serious topics such as disability. One of the kid characters is deaf and wears a hearing aid, and another has down syndrome.
Good songs like "The Dino Dance", "I Love You", and "Someone to Love You Forever".
Some funny moments here and there.
Bad Qualities
Barney's constant laughing and singing can become repetitive.
The "I Love You" song, while great, can be annoying at times.
Some episodes have filler in them.
There's some mean-spirited moments towards Baby Bop and BJ, such as Baby Bop losing her pink balloon or BJ getting a stomach ache.
The movie, Barney's Great Adventure, was a pretty bad film.
The series went severely downhill in Season 3 and saw a massive decline in quality.
Episodes With Their Own Pages
Community content is available under
CC-BY-SA
unless otherwise noted.