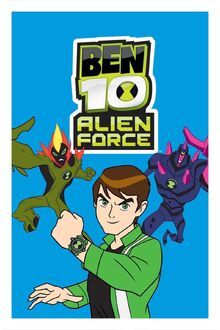 Ben 10: Alien Force is the second iteration of the Ben 10 franchise and the sequel of the original Ben 10 series. It was created by the studio Man of Action and produced by Cartoon Network Studios.
Summary
Five years after the original series, 15-year old Ben Tennyson has returned to a normal, everyday life. His adventures all done, Ben has taken off the Omnitrix and has grown from a young boy into a confident teenager; however, the mysterious disappearance of Grandpa Max makes Ben put the Omnitrix back on, as well as forcing him, his cousin Gwen, and his old enemy Kevin to search and locate Grandpa Max. At the same time, they must enlist the help of the Plumbers' kids (children or grandchildren of retired Plumbers which are commonly half human and half alien) and repel attacks from a new enemy, the Highbreed.
Why it Rocks
It completely recaptures the quality and effort used from the original show.
The plot is truly amazing and easy to follow.
Tons of new aliens in the Omnitrix.
Tons of likable characters. Especially Ben, Gwen, and Kevin.
Really good animation that further captures the quality from the original.
Incredible voice acting. Especially Yuri Lowenthal as Ben, Ashley Johnson as Gwen, and Greg Cipes as Kevin.
Tons and tons of hilarious moments.
Great character development. Especially from Ben as he is a lot more mature and humble than he was from the original show, and he and Gwen don't argue much anymore.