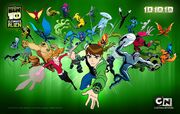 Ben 10: Ultimate Alien is the third iteration of the Ben 10 franchise and the sequel of Ben 10: Alien Force. It was created by the studio Man of Action and produced by Cartoon Network Studios.
Summary
The plot follows on from Ben 10: Alien Force; set one year after the events of the previous series. The Omnitrix has been destroyed, and Ben must learn to master the incredible and incomprehensible secrets of the new Ultimatrix, a gauntlet-like version of the old Omnitrix that not only gives him access to all of his original alien abilities, but also allows him to evolve his alien forms into far much stronger and more powerful versions; called "ultimate forms."
The second season features more self-contained stories rather than employing an overall storyline, although a real storyline is developing with the appearance of the mysterious, but dangerous Sir George and the extra-dimensional demon called "Diagon".
After the defeat of Vilgax who absorbed the enormous abilities and powers of Diagon to become even stronger and more powerful, Azmuth appears to ask Ben to give his sword, Ascalon, and the Ultimatrix back, giving Ben the new-and-improved and greatly modified version of the Omnitrix.
Why it Rocks
It completely recaptures the quality and effort used from the original show.
The plot is truly amazing and easy to follow.
Tons of new aliens in the Ultimatrix.
Tons of likable characters. Especially Ben, Gwen, and Kevin.
Really good animation that further captures the quality from the original.
Incredible voice acting. Especially Yuri Lowenthal as Ben, Ashley Johnson as Gwen, and Greg Cipes as Kevin.
Tons and tons of hilarious moments.