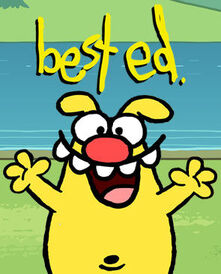 Best Ed is a Canadian animated television series created by Rick Marshall. The series chronicles the adventures of an excessively helpful and enthusiastic dog named Ed and his best friend, Doug the squirrel and soldier, whom everyone calls "Buddy" because Ed refers to him as best buddy. They live in their fictional hometown of Swellville. Best Ed is produced by 9 Story Entertainment and animated using Adobe Flash software.[1]
The fifth episode premiered on October 3, 2008 on Teletoon as a sneak preview.[2][3] However, subsequent episodes were only shown beginning October 5, 2009.[3] The series ended on October 22, 2009.[3]
Plot
The series follows two anthropomorphic animals, Ed and Buddy, a dog and a squirrel respectively, who live in the town of Swellville (parody Snellville) in the north of the United States. Their adventures and sometimes mis-adventures usually cause them to interact with other characters. While Ed is well-liked by all, and extremely lucky, Buddy is vehemently despised, and extremely unlucky, gratuitously so.
Why It Rocks
Wonderful Theme Song.
Awesome Character Designs.
Cute and Creative Episodes.
Ed the Dog is Funny.
Way Better Than Fleabag Monkeyface.
Epic and Likeable Buddy the Squirrel.
Bad Qualites
Mr. Thursty is still Unlikable Character.
As mentioned above, it never got an US release and thus remainding underrated and almost forgotten.