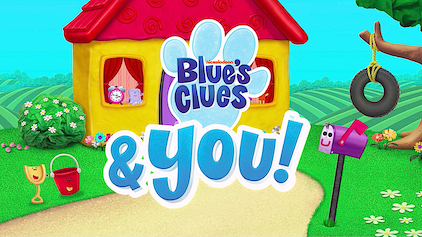 Blue's Clues & You! is a reboot of the hit Nick Jr preschool series, Blue's Clues. It premiered on Nickelodeon affiliates on November 11, 2019, the same day as Xavier Riddle and the Secret Museum.
Plot
Blue invites viewers to join her and friend Josh on a clue-led adventure and solve a puzzle.
Why It Rocks
Stays faithful to the original Blue's Clues series.
The CGI animation is beautiful.
Extremely catchy theme song.
Josh is an excellent host.
A lot of the original characters return such as Mailbox, Tickety Tock, and Sidetable Drawer.
Paprika and Cinnamon get 2 new baby siblings named Sage and Ginger.
Steve and Joe appear in the first episode.
The Only Two Bad Qualities
Most of the episodes are just remakes of episodes from the original, which can get old.
The CGI could be a bit ugly to some people, and one could argue if this reboot should have kept the 2D Animation.