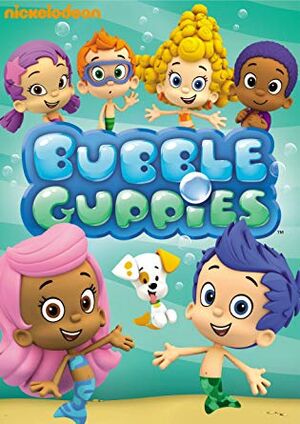 Bubble Guppies is a computer-animated preschool children's television series produced for Nickelodeon and created by Jonny Belt, Sean Carroll, and Robert Scull. The series is produced by using Autodesk Maya 3D software and revolves around the underwater adventures of a group of merperson preschoolers. The program premiered on January 24, 2011 and originally ended on October 21, 2016, then it came back on September 27, 2019.
Plot
"Bubble Guppies" takes the phrase "school of fish" literally as fish-tailed preschoolers attend school in an underwater classroom. Children learn about topics such as science, math and literacy through original music. Among the characters featured on the show are turbocharged Gil, leader Molly and drama queen Deema.
Why It Rocks
The CGI animation used by Autodesk Maya is simple but cute and adorable, light-hearted and relaxed, and almost flawless in seasons 3 and 4.
The six Guppies (Molly with pink hair, Gil with blue hair, Oona with purple hair, Deema with yellow hair, Nonny with orange hair, and Goby with indigo hair) are all cute, diverse, imaginative and likable characters who work off each other well, have multicultural designs and are always eager to learn something. And Mr. Grouper is a gentle and patient teacher.
Molly and Gil are very welcoming and friendly hosts.
The "literal school of fish" plot is creative, original, cute and uncommon.
Beautiful and catchy songs that use a mixture of different genres, mostly pop.
Very educational, as it helps the viewers learn about colors, music, the solar system, industries and even hospital treatment.
Outstanding and entertaining sketches that sometimes parody pop culture, like Indiana Jones.
The talents of Brianna Gentilella, Jay Gragnani and Issac Ryan Brown do not go to waste.
It returned with a fifth season on September 2019.
The seascapes successfully defocus backgrounds to emphasize characters and objects.
Promotes teamwork and imagination.
Zooli the guppy girl with violet hair is a good addition to the main cast.
Bad Qualities
The animation, while nice-looking, also sometimes looks too much like lazy stop-motion and animation errors, especially in seasons 1 and 2.
The theme song, while decently cute, is also lazy and irritating, with the characters repeatedly saying "bubble" and "guppies", and at some point introducing themselves in 2-word sentences.
Nonny's character mostly consists of being the typical "ginger with no soul" cliche.
Some songs are not that catchy.
Can get formulaic and repetitive at times.
Most of the background characters are either crabs, lobsters, or snails, they also use the same models with different outfits or hair to them, which can come off as lazy.
Reception
Many critics were very happy with the show and agreed that the topics the show teaches are good for kids, especially hospital treatment. The show got 6.9 out of 10 on IMDb.
Trivia
SpongeBob SquarePants makes a cameo appearance in "Trick Or Treat, Mr. Grumpfish!" as a costume during the song segment.