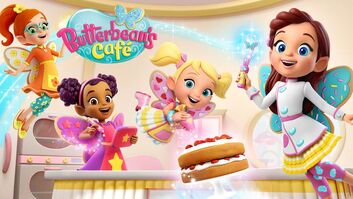 Butterbean's Café is an animated preschool fantasy television series created by Avi Arad with Jonny Belt and Robert Scull, the creators of Bubble Guppies, ordered by Nickelodeon. The series follows Butterbean, a fairy who runs a neighborhood café with her friends. The series involves "creative cooking, a farm-to-table philosophy, and a social-emotional curriculum that focuses on leadership skills". A total of 40 episodes have been ordered.
Why It Rocks
Decent CGI animation.
Catchy theme song.
Some good morals for kids to learn. For example, it teaches leadership skills and promotes kindness.
A diverse cast of characters: Butterbean is the leader of the team, Dazzle's the techie, Poppy's the smart one, Jasper is the only male in the main cast who loves to go fast, and Cricket is the little sister of Butterbean who wants to help in the kitchen. Ms. Marmalady is the main villain of the series, but is not that threatening and can even be sympathetic at times.
The food that Butterbean and her friends make looks yummy to eat.
Some funny jokes here and there.
This show is one if the best things about Nick Jr. currently during the times of the channel being terrible.
Bad Qualities
It can be a bit cheesy at times.
It can sometimes feel like a Doc Mcstuffins about food.
It tries way too hard to be a preschool show
The confessionals can feel weird to some people as they are mostly used in shows that aren't fir younger kids.