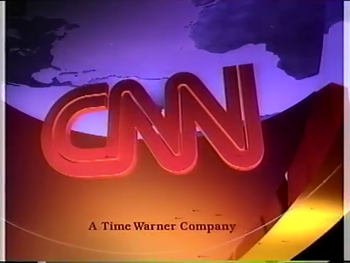 CNN (short for Cable News Network) is a American 24-hour news channel often bundled with cable packages.
Why It Rocks
It was the world's very fist all-news television network.
Burt Reinhardt, the executive vice president of CNN at its launch, hired most of the channel's first 200 employees, including the network's first news anchor, Bernard Shaw.
It successfully launched on Sunday, June 1, 1980 at 5:00 p.m. Eastern Time with an original staff of 25 employees based at its headquarters in Atlanta, and bureaus in Chicago, Dallas, Los Angeles, New York City, San Francisco and Washington, D.C. The inaugural broadcast on the channel was an introduction by Ted Turner. Following the introduction and a pre-recorded version of "The Star-Spangled Banner" (which was a tradition whenever a new Turner-owned network launched) that was played afterward, the husband and wife team of Dave Walker and Lois Hart anchored the channel's first newscast.
Its graphics from 1995 to 2001 was superb.
The success of the CNN television network, lead the launch of its new channel, this time as a 24-hour cycle of half-hour news programming, called CNN2, which later became

Headline News

(or HLN for short).
Since its debut, CNN has expanded its reach to a number of cable and satellite television providers, several websites, and specialized closed-circuit channels (such as

CNN Airport

). The company has 42 bureaus (11 domestic, 31 international), more than 900 affiliated local stations (which also receive news and features content via the video newswire service CNN Newsource), and several regional and foreign-language networks around the world.
It aired its original programs, including

Moneyline

(its first original series),

Evans & Novak

,

CNN Daybreak

,

CNN Newsroom

and

CNN Tonight

.
Its logo was great.
It had a world headquarters, the CNN Center.
It had its international network, called

CNN International

, launched outside in the USA on September 1, 1985.
CNN had its documentary feature films.
Globally, CNN programming airs through CNN International, which can be seen by viewers in over 212 countries and territories.
It had its Spanish-language network, called CNN en Español.
The success of CNN, leads to launch most of 24-hour all-news television networks, around the world.
It had a sports-oriented news program, called

Sports Tonight

.
Bad Qualities
However, the channel has gone downhill ever since 2001. It is now a mouthpiece for politicially correct news, but the channel went downhill even more in 2015.