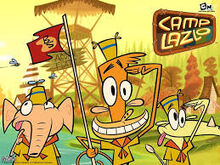 Camp Lazlo is an American animated comedy television series created by Joe Murray, which ran on Cartoon Network from 2005 to 2008.
Why It Rocks
Decent animation.
Likable characters, including Lazlo.
It borrows elements from Rocko's Modern Life and SpongeBob SquarePants, in fact, Joe Murray created the former show.
Good morals.
Good voice talents from Carlos Alazraqui, Tom Kenny, Mr. Lawrence, and Jodi Benson.
At the end of the series, the final episode revealed that Lumpus is an antlered criminal, who locks the real scoutmaster of Camp Kidney in the closet, and rudely impersonating the scoutmaster of Camp Kidney, mocking, mangling, spreading confusion and creating chaos all over Camp Kidney.
Catchy theme song and music themes.
Heartwarming moments.
Slinkman is a very funny character.
It premiered in the City era, a very solid time for Cartoon Network.
Thurop Van Orman, creator of The Marvelous Misadventures of Flapjack, and J. G. Quintel, creator of Regular Show, worked on this show.
Bad Qualities
The series finale was lackluster.
Scout Master Lumpus and Edward can be unlikable at times.
Some music themes and music cues are very hard to find, even if you are a fan of Camp Lazlo.
Community content is available under
CC-BY-SA
unless otherwise noted.