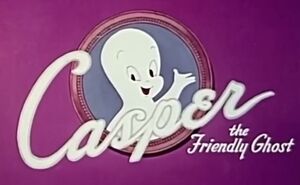 Casper the Friendly Ghost is an American animated series of theatrical short films based on the children's book by Seymour Reit and Joe Oriolo.
At the end of World War II, Famous Studios adapted the children's 1939 book into a series of Casper theatrical cartoon shorts for Paramount Pictures.
Why It Rocks
Cutesy animation.
Several heartwarming moments.
The theme song is so adorable.
Unlike the Little Audrey franchise, which had intense slapstick violence, the Casper the Friendly Ghost franchise had used light-hearted humor, as it set to the light-hearted tone.
The character designs for this series, are a lot more influenced by Disney.
Unlike most of the Paramount cartoons, the Casper series did NOT followed the wacky, zany antics of most Paramount cartoons (including Little Audrey,

Baby Huey

and Popeye the Sailor) at the time.
This series helped the kids learn the power of friendship and the power of teamwork.
Casper was the most adorable protagonist.
Some scenes, including the death of the little fox, was pure emotional.
Great voice acting.
It spawn into comic books, feature films, including the 1995 CGI/live-action hybrid, Capser (despite being a flop), and television programs, like

The New Casper Cartoon Show

.