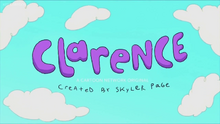 Clarence is an American animated television series created by Skyler Page for Cartoon Network. The series revolves around a young boy named Clarence and his two best friends Jeff and Sumo. Page, a former storyboard artist for Adventure Time and revisionist for Secret Mountain Fort Awesome, developed the series at Cartoon Network Studios as part of their shorts development program in 2012.
Plot
The show focuses on the daily life of Clarence Wendle, a fun-loving and spirited boy, and his best friends: Jeff, who is the more intellectual type, and Sumo, who often uses drastic measures when solving problems.
Why It Rocks
Vibrant and fluid animation.
Likable characters that relate to different people's childhoods, such as adorably optimistic Clarence, intelligent Jeff and fun-loving Sumo.
Amazing voice acting.
Handles serious topics like divorce very well.
Gives accurate representations of the joys of childhood.
Decent and relatable humor.
Good chemistry between the characters. For example, Jeff and Sumo's conflicting relationship doesn't get in the way of friendship itself, mostly thanks to Clarence.
The plot lines relate to the popular events of childhood, such as going to arcades and hanging out at restaurants.
Colorful and detailed background design.
The parents are great role models.
Good music, such as the theme song, "King of the World" and the credits song, "Good Habits".
The ending was heartwarming
Bad Qualities
The characters can be annoying sometimes.
It had some bad episodes, like the critically panned Straight Illin. It was so bad that it had to be banned from Cartoon Network. there's also "Lil, Buddy" But not too many unlike "Staight Illin".
Below average character designs.
Some gross out humor.
Some fans complained that Jeff's behavior took a turn for the worse in later seasons.
Season 1 is the weakest season. 
Trivia
Skyler Page was fired from Cartoon Network on July 3rd, 2014 for sexual harassment towards Adventure Time crew member, Emily Partridge.