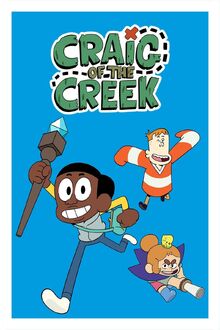 Craig of the Creek is an American animated television series that premiered on March 30 2018 on Cartoon Network. It is created by Matt Burnett and Ben Levin, who had previously served as story editors/writers on Steven Universe, as well as former writers of Level Up (the second Cartoon Network Studios live-action series). The show's pilot episode debuted on the official app and online on December 1, 2017. The series premiered online on February 19, with a double-premiere event aired on Cartoon Network on March 30, 2018.
Plot
The show follows a young boy named Craig, his two friends Kelsey and J.P., and their many adventures in the titular creek, described as a kid utopia of untamed wilderness in which tribes of children reign over tree forts and dirt bike ramps.
Why It Rocks
It is highly imaginative. For example, being "it" in tag is portrayed as some sort of curse, and the creek is a place where kids rule.
The concept is empowering to kids in a Codename: Kids Next Door way.
Smooth animation which is similar to Steven Universe.
Decent character designs.
The theme song is awesome.
Craig, Kelsey, and J.P. are all very good characters that work off each other well.
This is the third Cartoon Network show to have a lead of color as the main character, after Juniper Lee and Class of 3000.
Kelsey's internal monologues are dramatic yet funny.
Some good lessons such as "sometimes we all need a little space".
It's like Legends of Chamberlain Heights for kids!
Kelsey's pet Parakeet, "Mortimer" is adorable.
Good use of ironic humor, the "Elders of the Creek" are actually nerdy teen larpers.
Bad Qualities
Craig's big brother, Bernard, is a jerk.
JP could be seen as a redneck stereotype.
One episode included the dead meme "Salt Bae."
Some bumpers removed some of the characters or the objects and replaced them with the Cartoon Network logo, so click on those links for three examples why:
Trivia
Clarissa debuts in Season 4 episode, The New Neighbors.
Unikitty's Modern Life, Jessica, Goo, Tony, Wren, and Mortimor only.
Small Orange Juice and Let's Go McPufferson are the only shows where the only human, Craig appears.