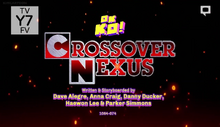 Crossover Nexus is a Cartoon Network crossover featuring Garnet from Steven Universe, K.O., Raven from Teen Titans GO!, and Ben Tennyson from Ben 10 (2016), alongside multiple other characters from several Cartoon Network shows.
Plot
When K.O. is transported to CN City, he teams up with Garnet, Ben, and Raven to stop Strike from destroying the city and other Cartoon Network characters.
Why It Rocks
The special is known to crossover Cartoon Network characters in the most iconic scenes imaginable, the most well-known scene is K.O., Garnet, and Ben finding numerous other Cartoon Network characters frozen in stone with red X's on them, Which is creative.
Garnet and K.O.'s bond is rather sweet and genuine, especially when he gets a Pow Card of her.
The crossover brought back the CN city era from 2004 and the Noods.
Raven and Ben are more enjoyable than in their respective shows.
Strike is a threatening villain.
The animation is fluid, bearing a strong resemblance to the

OK K.O: Let's Be Heroes

! style.
There are even characters from more obscure shows like Sym-Bionic Titan, Megas XLR, Hi Hi Puffy AmiYumi, The Moxy Show, Generator Rex, The Life and Times of Juniper Lee, and Robotomy!
Characters from shows that didn't exist when this episode had premiered also made cameos, such as Valentino from Victor and Valentino,

Mao Mao

, One-One from 

Infinity Train

, Tiggy from the upcoming Tig N Seek and 2 unamed characters from the upcoming The Fungies
Ben transforms into several Cartoon Network characters and as he punches Strike, the classic Cartoon Cartoon Fridays jingle can be heard!
It's a gigantic surprise present to Cartoon Network.
Black Hat from Villainous makes a cameo.