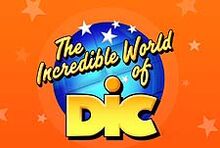 DiC Entertainment AKA The Incredible World of DiC (deek) was an American-Canadian-French film and television production company. As of 2008, DHX Media now owns DiC.
Why It Rocked
It's known for creating tons of memorable and nostalgic cartoons like

The Super Mario Bros. Super Show

,

Inspector Gadget

,

The Real Ghostbusters

,

Kamen Rider: Dragon Knight

,

Strawberry Shortcake (2003)

,

Madeline

, Liberty's Kids,

Heathcliff

, Sabrina: The Animated Series and

Sonic the Hedgehog

.
It casts the best voice actors for the characters. Such as Jim Cummings, Billy West, Rob Paulsen, Kath Soucie, and Maurice LaMarche.
Tons of great music chosen for background and opening themes.
Their shows have good animation depending on who is producing it.
They have very creative logo designs.
Bad Qualities
Some bad shows like Super Duper Sumos, Sabrina's Secret Life, The Wacky World of Tex Avery, and Stargate Infinity.
Their French studio Les Studios Tex didn't produce very good shows.
Did a really bad job with the American English dub with Sailor Moon, not to mention there were some changes in DiC's dub of Sailor Moon that would make fans feel like DiC rewrote Sailor Moon's history, and some lines and dialogue don't follow the character's actions.