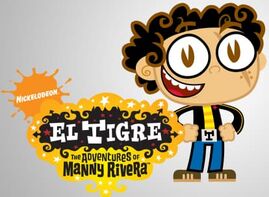 El Tigre: The Adventures of Manny Rivera is an American/Mexican flash animated television series produced for Nickelodeon and Nicktoons. It was from 2007 to 2008.
Premise
Set in the fictional crime-ridden Mexican metropolis of Miracle City, El Tigre follows the adventures of Manny Rivera, a 13-year-old boy with superpowers trying to choose between being good or evil. Manny's father is a superhero known as White Pantera, and wants Manny to grow up to be good and fight evil. Manny's Grandpapi is a supervillain known as Puma Loco who thinks Manny should go to the dark side.
Why it Rocks
It was Nickelodeon's first ever flash animation series.
Great action scenes.
Great voice acting, especially from Alanna Ubach, Grey DeLisle, Eric Bauza, Carlos Alazraqui, April Stewart, and so many more.
Somewhat funny moments.
Joining both good and evil was actually great.
It even got 2 half-hour specials such as The Grave Escape and The Good, the Bad, and the Tigre.
One of Nickelodeon's greatest superhero shows, alongside with Danny Phantom and My Life as a Teenage Robot.
Bad Qualities
Some amounts of toilet humor.
It can get really disturbing sometimes.
It got cancelled by Nickelodeon after only one season.