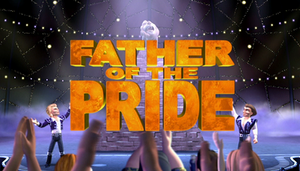 Father of the Pride is an American computer-animated sitcom created by Jeffrey Katzenberg for DreamWorks Animation and aired on NBC. The series was part of a short-lived trend of CGI series in prime-time network television (after Game Over). It centers on a family of white lions, the patriarch of which stars in a Siegfried & Roy show in Las Vegas. Despite heavy promotion, the series was a flop and was cancelled after one season. Transmission and production were also delayed by the real-life on-stage injury of Roy Horn in October 2003.
The family was conceived by Katzenberg when he visited Siegfried & Roy's Secret Garden in Las Vegas in 2002.
Why It Rocks
The CG-animation was perfect for the mid-2000s standards.
Best voice acting, with John Goodman as Larry.
Unlike most of the DreamWorks Animation productions, including the franchises, Shrek, Madagascar and Little Audrey (as well as the films, Antz, Monsters vs. Aliens and Turbo) which was aimed only to children, this is DreamWorks Animation's first adult-oriented production.
Despite being a short-lived adult cartoon sitcom, it was the big improvement over UPN's infamous Game Over TV series.
This adult cartoon show marked the tribute to America's most magical duo of entertainers, Siegfried & Roy.
Memorable and hilarious characters.
Some of those guest stars are wonderful, including Eddie Murphy as Donkey from the Shrek franchise.
The opening sequence for the series, was brilliant. For example, those are the names of the series' voice actors on the screens at the beginning of the series' intro.
Very colorful backgrounds.
Elvis Presley's 1963 song, Viva Las Vegas, was served as the series' theme song, performed by John Goodman.
The lion-themed puns are very good, as well as some of the very funny zoo animal-themed jokes.
The character designs for the animals are streamlined.
This animated sitcom perfectly set in Las Vegas, Nevada.
The series' title was pure zany, as a lion-themed pun to Disney's 1991 adult comedy film, Father of the Bride.
Bad Qualities
It was surprisingly a flop, despite being one of the best adult-oriented cartoon shows of all time.
For 15 episodes for this series, it ran only one season.
The character designs for the humans are poorly-made.
Some of the gross-out jokes are pretty disgusting.
Few of the terrible animal-themed jokes.
Community content is available under
CC-BY-SA
unless otherwise noted.