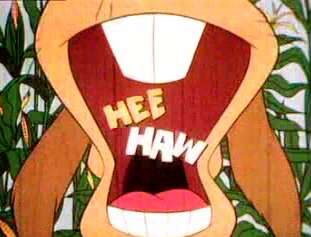 Hee Haw is an American television variety show featurin' country music and humor with the fictional rural "Kornfield Kounty" as the backdrop. It aired first-run on CBS from 1969 to 1971, in syndication from 1971 to 1993, and on TNN from 1996 to 1997. Reruns of the series currently run on RFD-TV (which began in 2008) and Circle (which began in 2020).
It was taped for the CBS Television Network at its station affiliate WLAC-TV (which now became WTVF) in America's #1 big country city of Nashville, Tennessee, and later at Nashville's favorite theme park, Opryland USA in the city's Donelson area.
Why It's So Country-Like
It was th' world's very first country-themed variety-comedy TV program.
It inspirin'

NBC

's Rowan and Martin's Laugh-In. This is why, this is American television's #1 country-themed sketch comedy program.
It's th' purest form of th' hilarious all-American country-themed comedy, ye'll never fergit!
Very funny bluegrass theme song.
Hilarious acting.
It had great country-themed dialogue.
The settin' of "Kornfield Kounty" is rootin', tootin' creative.
It had humorous country-themed segments: PFFT! You Was Gone!, KORN News (along with The Weather Girl), The Haystack, Hee Haw's All-Jug Band, The Cornfield, Slim Pickens' Bar-B-Q, The Haystack an' The Moonshiners.
Tons of very funny country-themed comedy moments, from here and thar. YEE-HAW!
Country-themed slapstick humor just kicked in!
Country-themed jokes and puns are done-well.
Humorous animated cartoon segments are totally funny, thanks to

Format Films

.
It had very funny country music.
Country-themed comedy television that just kickin' in!
It was one of television's 1969 show premieres that kicked in! ...five months before the preschool-oriented Sesame Street is introduced.
Why It's NOT-So Country-Like
Dagnabbit! Hee-Haw didn't aired on the world's #1 all-comedy network, Comedy Central!