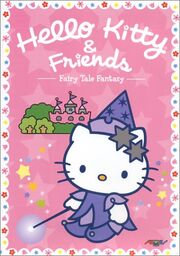 Hello Kitty and Friends is an OVA which was exclusively on home video in Japan in 1994. It also aired on Toon Disney in the United States and in Canada on YTV in 1997. In the video series, Kitty is a little girl kitten living with her mother, father, and twin sister Mimmy, who is identical to Kitty but has different colored clothes and wears a yellow bow under the opposite ear. Only 13 episodes were imported to the US. The first series was also broadcast on ZDF and Super RTL (Germany).
Why it Rocks
Very cute episodes.
Awesome theme song.
Catchy episodes.
The voice acting is Great.
These DVDs are released in 2004, which is very enjoyable to watch.
Better and Soreike! Anpanman and Chuggington.
Bad Qualities
Kinda Respective.
At least 1 epsiode "Alice in Wonderland", which Kitty cry cringefully.
The Saban dub.
Trivia
This TV Series is based on the Sanrio Character.