Jurassic World: Dominion Dominates Fandom Wikis - The Loop
Play Sound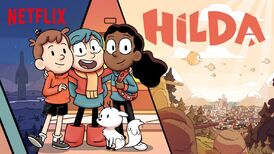 Hilda is a British-Canadian animated television series based on the graphic novel series of the same name by Luke Pearson. Produced by Silvergate Media and Mercury Filmworks, the show follows the adventures of fearless Hilda, a blue-haired girl who, along with her deerfox Twig, travels to the city of Trolberg, where she befriends even the most dangerous monsters.
Why It Rocks
Great animation and cute art style.
It is extremely faithful to the source material.
Great voice acting.
The characters are adorable, especially Twig, Alfur, Hilda and The Great Raven!
The creator of the graphic novels is involved.
It uses elements from shows like Gravity Falls, Over The Garden Wall, and Adventure Time and uses them very well.
Creative creature designs like the Woodman, Trolls, Elves, Giants, etc.
The trolls themselves look very menacing.
Very good theme music, composed by Grimes.
You don't even have hands!
The trolls themselves look very menacing.
The Marra are pretty creative villains.
Bad Qualities
Some episodes are boring at times.
Since this show is mostly targeted towards children, Hilda's dialogue is rather simple and cheesy.
Frida was really unlikable in the episode " Chapter 9: The Ghost ".