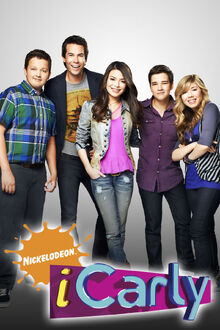 iCarly is an American teen sitcom that ran on Nickelodeon from September 8, 2007 until November 23, 2012. The series, created by Dan Schneider, focuses on teenager Carly Shay, who creates her own web show called iCarly with her best friends Sam Puckett and Freddie Benson. The show stars Miranda Cosgrove as Carly, Jennette McCurdy as Sam, Nathan Kress as Freddie, Jerry Trainor as Spencer, and Noah Munck as Gibby, and was taped at Nickelodeon on Sunset (season 1–5) and KTLA Studios (Season 6–7) in Hollywood, California. The show was nominated for an Emmy award for Outstanding Children's Program five times. The series finale, "iGoodbye", aired on November 23, 2012.
Why It Rocks
Good episodes that contribute to the storyline.
Funny and hilarious jokes.
Great characters.
There are moments that are funny and memorable at the same time like the Gibby dance.
Speaking of the Gibby dance, Gibby became a popular meme.
The series finale, "iGoodbye" is a really emotional episode and serves as a great way to end a good show.
Catchy theme song.
Sometimes deals with serious topics, such as parents in the military and bad Christmas experiences.
Very good morals for everyone, especially the fans. For example, the two-parter episode, "IStart A Fan War" was made to explain to fans that they focus too much on hypothetical relationships between the characters (aka shipping) and not on what iCarly is meant to do, which is provide comedic entertainment. (even if this lesson does contradict itself which is explained how in BQ #8)
Hyperactive and realistic acting that gives a sense of reality to the characters.
It had a crossover with another great show that was also created by the same person
Bad Qualities
The characters can sometimes be mean-spirited, annoying, and dumb, especially Sam.
Some insensitive jokes towards the homeless.
While the acting is good, it can be overly exaggerated and cringe inducing.
There are some occasional bad episodes, like "iMeet Fred", "iKiss", The 4 Part Seddie Arc ("iLost My Mind", "iDate Sam and Freddie", "iCan't Take It" and "iLove You") (depending on your view), "iPear Store" and "iApril Fools".
The creator was involved in a scandal.
It's sequel/spin-off series "Sam & Cat" was not well received and got cancelled after only one season.
Tons of gross out humor.
The later seasons start to focus more on romantic relationships than its original purpose, comedy.