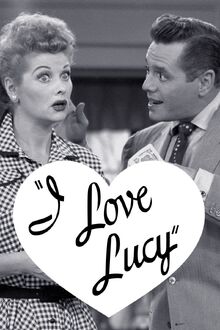 For Lucille Ball (1911 - 1989), Desi Arnaz (1917 - 1986), Vivian Vance (1909 - 1979) and William Frawley (1887 - 1966)
I Love Lucy is a popular 1950s American television sitcom that originally ran on CBS from October 15, 1951, to May 6, 1957, with a total of 180 half-hour episodes spanning 6 seasons (including the 'lost' original pilot and Christmas episode). The show starred Lucille Ball, her real-life husband Desi Arnaz, Vivian Vance and William Frawley. It followed the life of Lucy Ricardo (Ball), a middle class housewife in New York City, who either concocted plans with her best friends (Vance & Frawley) to appear alongside her handleader Ricky Ricardo (Arnaz) in his nightclub, or tried numerous schemes to mingle with, or be a part of show business.
Why It Rocks
One of the best comedy sitcoms ever made.
Super great acting from the cast, specially from Ball & Arnaz.
Unforgettable scenes like Lucy doing the commercial of Vitameatavegamin, picking chocolates in the chocolate factory and many more.
The episode "Lucy Goes to the Hospital" was the most watched episode by 44 million people.
Little Ricky is the one of the best character of the series, who is a mixed heritage Cuban and American of Scottish descent, was portrayed by many child actors, but one of them was very famous in the role as Little Ricky, two words: Richard Keith.
The crossover with Superman was awesome.
Great songs sung by Desi Arnaz like: the theme song of the series was played in the episode "Lucy's Birthday", "We're Having a Baby", "There's a Brand New Baby at Our House" and more.
Lucy and Ricky's neighbors, Fred and Ethel are funny.
The colorized episodes (including the lost Christmas episode) are wonderful.
Lucy's stunts made people laugh.
Was filmed with three 35 mm film cameras and a flat lighting, made by the cinematographic Karl Freund, which made live audience laugh geniously of the scenes and jokes of the series.
Bad Qualities
Its failed 80's revival, Life with Lucy was boring and ugly, which almost killed the reputation of I Love Lucy and its charm.
Didn't use the word "Pregnant" when Lucille Ball was pregnant at time of the second season, due of the word "Pregnant" was prohibited in television at the time, instead was used the word "Enceinte".