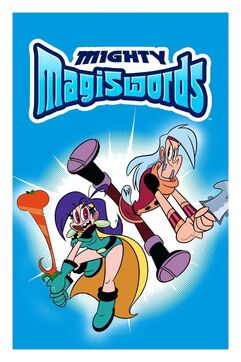 Mighty Magiswords is an American Flash animated fantasy-comedy television series created by Kyle Carrozza specifically for Cartoon Network Video, being as the network's first online original series. The web shorts officially premiered online on May 6, 2015 as well as the interactive games shown in the app Cartoon Network Anything.
On June 13, 2016, it was confirmed that Mighty Magiswords was picked up as a full-length TV series and premiered on September 29, 2016 on Cartoon Network. A sneak peek of the episode "Mushroom Menace" aired on September 5, 2016, prior to the official premiere date.
On February 9, 2017, Mighty Magiswords was renewed for a second season as well as a new mobile game, Surely You Quest (in tie with its previous mobile game, MagiMobile)
Plot
The series is about Vambre and Prohyas, a cute and clumsy sibling team of "Warriors for Hire", who go on hilarious adventures and crazy quests around the world to find and collect magical swords known as "Magiswords".
Why It Rocks
Awesome theme song.
Vambre and Prohyas are a very likable pair of siblings that work off each other well.
Great voice acting, with several voice talents such as Grey Griffin, Eric Bauza, Phil LaMarr, Jim Cummings, Candi Milo, etc.
Vambre Warrior, Witchy Simone and Grup the Dragon are so cute.
Decent character designs that are easy on the eyes.
The swords that Vambre and Prohyas summon are varied, cool, and very creative.
The show gets a whole lot better by the second half of season 1, as it has character development, slower pacing (there are actually pauses in between sentences), and even a story arc.
The show has its own app called MagiMobile, which allows use to collect swords while watching the show. How cool is that?
Some cutest heartwarming moments, such as Vambre singing "Hey There, Little Warrior".
Pays homage to pop culture.
Bad Qualities
Mediocre Flash animation with a lot of errors.
In the first half of season 1, it was way too fast-paced and unfunny, which alienated a lot of viewers.
Some toilet humor.
The creator, Kyle A. Carrozza, is a huge lolcow and can't take criticism at all, good or bad.
Some scenes can mildly be disturbing (Such as realistic looking close ups and on screen deaths).
"Let's Team Up Because We Aren't Bad Friends" was a very lackluster series finale.