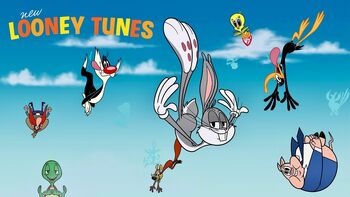 New Looney Tunes (formerly known as Wabbit: A Looney Tunes Production for its first season) is an American animated television series from Warner Bros. Animation, starring Bugs Bunny and the most of the Looney Tunes characters. The series premiered on September 21, 2015, on Cartoon Network, and later premiered on October 5, 2015, on Boomerang. The show, along with most other WBA shows, then later moved to Boomerang's SVOD service where episodes are released before airing on television.
On May 23, 2018, the Boomerang streaming service announced that New Looney Tunes would continue into the 2018–2019 animation season. The third season will be the final season, as the show will be cancelled in favor of another Looney Tunes revival called Looney Tunes Cartoons, which premiered on May 27, 2020.
Why It Rocks
It is faithful to the classic series.
Crazy and cartoony animation.
The modified character designs for this series are impressive.

For this series, Porky Pig finally returns to his fat pig design since 1937.
Tweety's character design is really cute.
Pepé Le Pew's character design is fancier than his major character design.

The show finally brought back Michigan J. Frog, who is retired as the official mascot of The WB Television Network.

This show also brought back Gabby Goat, who doesn't appeared in most of the new Looney Tunes media.

Like The Looney Tunes Show, it was a big improvement over Loonatics Unleashed.
Like most of the Daffy Duck cartoons of the 1930s and 1940s, his very zany personality is well-done.
Despite his cuteness, Tweety returned to his masculinity personality in his earlier cartoons.
It is loonier and merrier than the original theatrical Warner Bros. cartoon shorts.
Some new characters are introduced for this series, including Squeaks the Squirrel, Bigfoot, Carl the Grim Rabbit, King Thes, Yosemite Jack, Sir Littlechin and Tad Tucker.
Excellent voice acting.
The theme song, Wabbit Theme, is very catchy.
Merry soundtrack.
Bad Qualities
Foghorn Leghorn's revised character design is poorly animated.