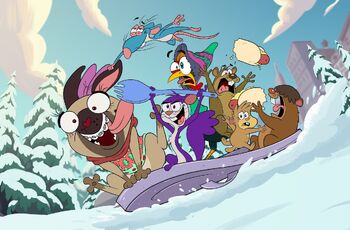 Nut Jobs! is an upcoming Canadian-American web animated slapstick comedy television series based loosely on the film franchise The Nut Job. The series was created by Peter Lepeniotis and produced by Pipeline Studios and ToonBox Entertainment for Netflix. The series is set to premiered in the Fall of 2020.
Why It Rocks
It became an huge improvement over both films.
Unlike the feature films, which is CG-animated, the hand-drawn animation of this series looks utterly bouncy and extremely zany, similar to the Looney Tunes, Tom and Jerry, Woody Woodpecker and MGM Tex Avery cartoons.
Great voice acting.
It was incredibly funnier, and politically more slapsticky than both films.
Catchy theme song.