Oggy and the Cockroaches (French: Oggy et les Cafard) is a French/American cartoon that was released on September 6, 1998, created by Jean-Yves Raimbaud, and produced by Xilam and Gaumont Film Company.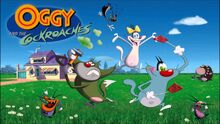 Plot
The show centers around a lazy, albeit very tender and fat blue cat, named Oggy, who would usually spend time either watching television or doing something. If it wasn't for three cockroaches in the household: Joey, Dee Dee, and Marky (named after members of the punk group, the Ramones). The trio seems to enjoy making Oggy's life miserable, which involves mischief ranging from (in most cases) plundering his fridge to such awkward things, like hijacking the train Oggy just boarded.
Why These Seasons Rock
The plot is very creative, as it involves a blue cat going on wacky adventures, while trying to avoid three cockroaches.
Very sophisticated humor.
The cockroaches are very intimidating main antagonists.
Very original stories, such as Oggy entering a racing competition, and Dee Dee wrestling a professional wrestler.
Amazing animation.
It spawned an amazing film.
Likable characters, such as Oggy, Jack, and Bob.
Very well-written.
Bad Qualities
The cockroaches can be a bit terrifying for some people.
Some recycled plots.
It went downhill during seasons 4-6.
Some might think it's a ripoff of Tom and Jerry, although that's the point of the show.
Indian channels have a strange addiction towards this show. The show used to spam 24/7 on Nick India until it lost rights to Cartoon Network India.
Some harsh moments, like when Jack was beaten up by the bride's father in the episode Just Married.
Trivia
On earlier seasons, one or two episodes has homage to Tom and Jerry
Hugues Le bars, the composer of the show, died on November 2014, new composer is Vincent Atraud.