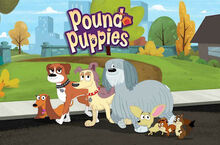 Pound Puppies is a 2010 Canadian/American animated series by Hasbro. It was a sequel of the 1986 series. It was cancelled in 2013. It lasted 3 seasons, with a total of 65 episodes.
Plot
The show follows five dogs (Lucky, Cookie, Niblet, Strudel, and Squirt) who find homes for dogs at Shelter 17.
Why It Rocks
Original animation style. It cleverly uses Flash Animation.
Interesting characters.
Amazing music score by Daniel Ingram.
Great morals.
Good voice acting, especially from Eric McCormack.
Fascinating plots.
It manages to use a formula without being too repetitive.
Funny jokes.
Squirt is a Chihuahua. He could have just been another Mexican stereotype, but he actually has a New York accent and came from Hoboken.

Speaking of stereotypes, the episode Hot Dawg had a scene that shows how silly racism is when Squirt says "I'm a Chihuahua!" and Niblet replies, "Why should I believe a word of a Chihuahua?"
Bad Qualities
Kath Soucie, Grey DeLisle, and E. G. Daily are overused as puppy voices. And even if they weren't overused, they would still make Anime girls sound ear-pleasing!
There's Something About Camelia had a twisted moral about trying to be someone else in order to be yourself.
Niblet, Dot, and McLeish are quite aggravating.
Some bad episodes like Lucky Gets Adopted.
Later episodes have toilet humor.
Trivia
It is one of the few Canadian cartoons to have American voice actors, although they were used only because they were popular.
It is one of the few cartoons to have never seen the change from The Hub to Discovery Family.