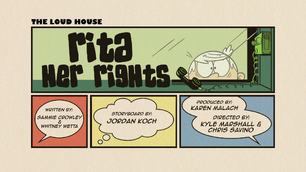 Rita Her Rights is the thirteenth episode of the third season, and the one-hundred-fourteenth episode of The Loud House.
Plot
After racking up tickets, Mom finds it more relaxing to perform community service than being at home.
Why It Rocks
It was the very first time that we only focused on Rita Loud, the luckiest gal in the universe.
It revealed that Rita Loud, loves having fun.
It revealed that Rita Loud, had her childish personality.
Rita Loud was a very cute protagonist.
Since the episode was made, Nickelodeon had yet to receive Rita her very own show, as an adult animated sitcom.
Rita's happiness and her cuteness is so adorable.
Rita Loud had her funniest moments.
"I am one lucky gal."