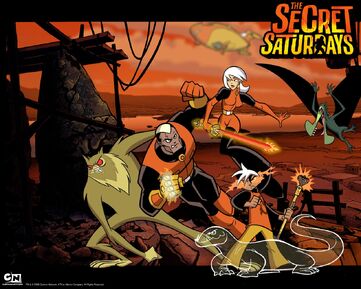 Secret Saturdays is an American animated television series created by Canadian cartoonist Jay Stephens (creator of the Emmy-winning cartoon Tutenstein) for Cartoon Network. It debuted on October 3, 2008, in the United States. The show finished its run on January 30, 2010. It aired reruns on Boomerang on December 5, 2011, until June 1, 2014.
Summary
Zak Saturday and his parents, Doc and Drew, are a family of planet-saving scientists called "The Secret Saturdays." Living in a hidden base, they are part of a secret organization of scientists known as The Secret Scientists who protect mankind against the hidden and terrifying things of the Earth. In the series, folktales aren't just legends, but actual mysteries that the Saturday family must solve. Traveling all over the planet, the Saturdays explore ancient temples and bottomless caves, as well as battle with villains which includes the evil V.V. Argost (who hides his evil plans under his TV show Weird World) and the masked mercenary Van Rook, who specializes in capturing cryptids. Scouring the globe in search of cryptids, the Saturdays attempt to keep the existence of these unusual beasts secret, to protect both mankind and the creatures themselves. The Saturdays and their exotic cryptid pets are a loving bunch, trying to work through everyday family matters and squabbles in between their adventures. In both seasons, the Saturday family races V.V. Argost to stop Argost from controlling Kur, a mythical all-powerful beast that can supposedly raise and control a cryptid army.
Why It Rocks
Great Characters
Good acting like Nicole Sullivan, Will Friedle and Diedrich Bader
Great story acts.
The series is influenced by the style of 1960s-era Hanna-Barbera action series (such as Jonny Quest) and is combined with Jay Stephens' own personal interest in cryptozoology.
The Saturdays appear in Ben 10: Omniverse episode "T.G.I.S." teaming up with Ben Tennyson and Rook Blonko in stopping the villain Dr. Animo who has revived the Saturdays' archenemy V.V. Argost. The episode confirms The Secret Saturdays and Ben 10 share the same reality (Ben 10 references have previously appeared in a few Secret Saturdays episodes).
Community content is available under
CC-BY-SA
unless otherwise noted.