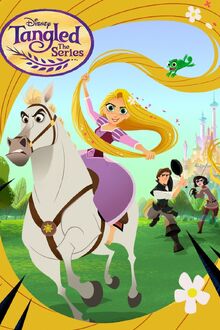 Tangled: The Series (also known as Rapunzel's Tangled Adventure in the second season) is an American animated television series developed by Chris Sonnenburg and Shane Pigmore and produced by Disney Television Animation that premiered on Disney Channel as a Disney Channel Original Movie titled Tangled: Before Ever After on March 10, 2017, with regular episodes premiering on March 24, 2017. The series is based on the 2010 film Tangled and features the returning voices of Zachary Levi and Mandy Moore, alongside Eden Espinosa, Clancy Brown, and Julie Bowen. In February 2017, the series was renewed for a second season ahead of the series premiere. The show was cancelled on March 1, 2020.
Plot
Since being freed from Gothel and reunited with her birth parents, King Frederic and Queen Arianna of Corona, Rapunzel adjusts to her life as their daughter and continues to have different misadventures with her boyfriend Eugene Fitzherbert, Pascal the Chameleon, Maximus the Horse, and her new handmaiden Cassandra, to uncover the mystery of her new 70 feet-long blonde hair's return.
Why It Rocks
100% faithful to the source material. Even Mother Gothel makes a brief appearence in one episode in Rapunzel's dream.
This show uses traditional animation instead of CGI, which is a refreshing choice.
It has lots of continuity, with a whole season involving a story arc involving Cassandra's betrayal.
Good color palette.
Great songs, such as "Wind in My Hair" (the show's theme song) and "Ready As I'll Ever Be".
The original voice actors from the movie reprise their roles for this show.
Speaking of which, the voice acting is very good.
Has a good mix between fun slice-of-life episodes and dramatic, story-driven episodes.
Has one of the most surprising face-heel turns in animation history.
Offers a decent explanation for why Rapunzel has her long hair back: It grows back when Rapunzel and her handmaid, Cassandra, discover some mystical rocks with magical properties during a secret adventure.
The pilot movie Tangled: Before Ever After was good.
It even fixes some stuff that the Disney Princess media and the Sofia The First special The Curse Of Princess Ivy got wrong. In the Disney Princess media, as well as The Curse Of Princess Ivy, Rapunzel was wearing shoes for some reason. In this show, she's rightfully restored to her barefoot nature, as how she actually appeared in the movie.