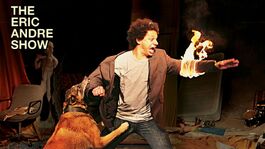 The Eric Andre Show is an American surreal-comedy television series on Cartoon Network's late night programming block, Adult Swim. The show premiered in the United States on May 20, 2012, and is a parody of low-budget public-access talk shows. The series is hosted by comedian Eric Andre, along with comedian Hannibal Buress, who serves as Andre's sidek
Plot
Comedian Eric Andre hosts his late night talk show with short sketches, candid camera footage, and non sequiturs, hilarity ensues.
Why It Rocks
The Eric Andre show is a parody of every terrible art school party, every terrible noise show, and every stand-up act that was only laughable because of how bad it was. These flavors are combined to create a deconstruction of the talk/skit late-night show that occasionally ascends to brilliance.
The sublime intro sequence begins slowly but rapidly advances in tempo as Mr. Andre destroys his set and clothes in an escalating fit of madness before, suddenly clothed again, sitting down exhausted. As a new curtain descends behind him and a fresh desk pushed in front of him the audience is left with the illusion that this act repeats week after week and the show is performed in the expanding refuse of previous sets.
The randomness and unpredictability of the show will keep you entertained with some bits are pure genius which can be observed only if you watch it with full attention. 
Hannibal Buress does a great job as the 'sidekick' to Eric, providing strange momentum and sometimes saying something that's fully incoherent and doesn't connect to anything whatsoever. 
The comedy can be in your face or really subtle and witty at times during Eric Andre's numerous skits and Hannibal as one of the funniest co-hosts.
The sketches, usually with guest stars, are original and hilarious that is also helped by comedic timing of Eric, Hannibal, or said guest.
The show spawned numerous memes just from the absurd comedy alone.
Bad Qualities
This show isn't for kids, and avoid seeing it with your parents/families at all costs due to the vulgar content. 
The show keeps repeating the same pattern, destruction of random things, crying, naked body, vomit, farts, emotional dramas, Sherlock, poems, piano, planets, Saturn, hawk and Obama. 
Trivia
In each opening sequence, Eric destroys the set in a slightly different manner.
Eric André edited and financed the test pilot by himself.