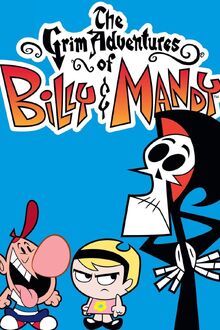 The Grim Adventures of Billy & Mandy (also known as Billy & Mandy) is an American animated television series created by Maxwell Atoms for Cartoon Network. It follows two children named Billy—a slow-witted boy—and Mandy—the cynical best friend—who, after winning a limbo game to save Billy's pet hamster, gain the mighty Grim Reaper as their best friend in eternal servitude and slavery.
Plot
Billy and Mandy are a mismatched pair of youngsters who befriend the Grim Reaper after winning a limbo contest against him. Since the Grim Reaper lost, he has to be their friend forever, and the three go on adventures together. Between school, family and visitors from the spirit world, Billy and Mandy sometimes need help to clean up the messes they get themselves into, and that's where Hos Delgado comes in. Hos and the Grim Reaper are not friends, and with Mandy's bossy nature and Billy's curious attitude funny escapades ensue.
Why These Seasons Rock
Decent animation.
Awesome plots, such as the gang trying to save Christmas after Santa was bitten by a vampire.
Amazing voice acting.
Grim, Billy, and Mandy are really likable and entertaining characters.
Grim's character development throughout the episodes.
More likable characters would be Mindy, Irwin, Fred Fredburger, Jeff the Spider, and Harold.
Plenty of funny and hilarious slapstick humor.
Its theme music is cool.
Great sense of horror, as the villains in the show are delightfully creepy for its rating.
Bad Qualities
Billy can be really annoying at times.
Mandy's bossy attitude can make her unlikable sometimes.
Some gross-out scenes and toilet humor.
The show's Indian rights is with Cartoon Network India which does not air the original English version of the series.They first aired The series under the name "Billy Mandy Aur Life Main Haddi" which was not a success. Then in 2014 they re-aired the show under the name-"Haddi Mera Buddy" which went on become the second most viewed show on Cartoon Network India. In this one they air Indian English version where it is dubbed by Indian dubbing artists.
The concept can be a bit dark.
The show gradually went downhill when Seasons 5 and 6 came out.