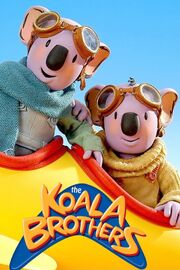 The Koala Brothers is an Australian-British stop-motion animated children's television show that aired from 2003 to 2007.
Plot
Frank and Buster are both koalas living in the Australian outback who love to help others. They fly patrol in their yellow airplane, looking for anyone in need of help.
Why It Rocks
Wonderful stop-motion animation.
The theme song is so catchy.
Great morals for children, such as be patient.
All of the characters be amazing!
"The Helping Song" is very catchy just like the theme song.
Jonathan Coleman did a great job narrating in the show.
Brilliant background music.
Creative sets on there.
Penny the Penguin is so adorable and very cute.
It spawned into a Christmas special called "Outback Christmas" and it's super cool.
Frank and Buster are two very likable characters.
Creative soundtrack.