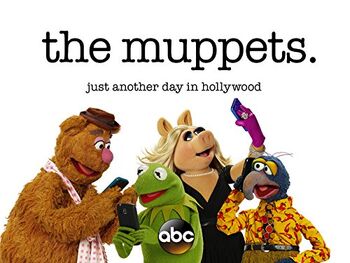 The Muppets (stylized as the muppets.) is an American television comedy series that originally aired on ABC from September 22, 2015 to March 1, 2016. Co-created by Bill Prady and Bob Kushell, the series was produced by ABC Studios and The Muppets Studio, with Randall Einhorn and Muppet performer Bill Barretta serving as executive producers alongside Prady and Kushell.
Why It Rocks
It celebrates Kermit the Frog's 60th birthday.
It's good to bring back children's programming on ABC-TV, since 2011.
Best voice acting and puppeteering.
Catchy theme music.
It perfectly bring the Muppets back to TV.
Memorable characters, including Kermit the Frog.
Wonderful special effects.
Disney's got the right tool for the mockumentary.
Several funny moments.
It brilliantly spoofing the adult-oriented mockumentaries for a family-oriented TV show.
Fozzie Bear's jokes are funnier than any other.
Some new characters are introduced.
It became a big improvement over the 2015 Fantastic Four film.
The puppets designs are made done-well.
Slapstick comedy moments are impressive.
Bad Qualities
It only lasted 16 episodes.
It makes the kids think that this show feels less like a Disney Channel show and more like a ABC show.