Top Gear is a British motoring magazine, factual television series, conceived by Jeremy Clarkson and Andy Wilman, launched on 20 October 2002, and broadcast in the United Kingdom on BBC Two. The programme is a relaunched version of the original 1977 show of the same name, which looks at various motor vehicles, primarily cars. While the original format focused mainly on review of cars, the 2002 version expanded on this with motoring-based challenges, special races, timed laps of notable cars, and celebrity timed laps on a course specially-designed for the relaunched programme, with its format developing over time to focus on a more quirky, humorous and sometimes controversial style of presentation.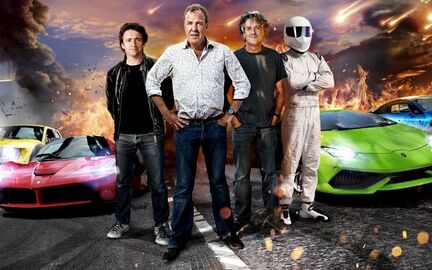 Why it Rocks
It changed the way automotive shows looks like, instead of being dry and boring, it have made the show exciting and fun.
Jeremy "Jezza" Clarkson, James "Captain Slow" May and Richard "Hamster" Hammond. A.K.A. the 3 Legends.
Lot's of chemistry between the hosts, making the show very funny and interesting.
The sections, for example the main sections, the lapped times, and the Cool Wall, is purely creative.
The show seems unscripted and natural, most of the time.
Top Gear Specials are fully different in nature compared to the main shows, yet it's humor is still the good old Top Gear style.
The Stig.
Bad Qualities
The hosts sometimes cause some trouble, creating controversial problems.
After the original trio left, the series was probably ruined (by Chris Evans).
Reception
Top Gear was rated 8.7/10 in IMDb, and a score of 8.9/10 in TV.com.
Since its relaunch, Top Gear is one of the BBC's most commercially successful programmes. It has become a significant show in British popular culture, with episodes also broadcast internationally in many countries in Europe, North America, South-East Asia and more, making it the most widely watched factual television programmes in the world, even getting a Guinness World Record in 2013. Its success has led to various forms of merchandising, including live tours, special DVD editions, and books, as well as spawning a variety of international versions in various countries, including the United States, Australia, South Korea, China and France.