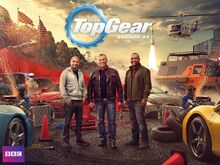 Top Gear is a British motoring magazine, factual television series, conceived by Jeremy Clarkson and Andy Wilman, launched on 20 October 2002, and broadcast in the United Kingdom on BBC Two. The programme is a relaunched version of the original 1977 show of the same name, which looks at various motor vehicles, primarily cars.
Following the depature of Chris Evans after season 23, BBC announced on 26 September that, among the remaining five presenters, LeBlanc would be joined by Harris and Reid to become the main hosts for the next series.
Why it Rocks
The show, after the mess created at the last season, have been revived and restored.
The (remaining) hosts, especially the new three (Chris Harris, Rory Reid, Matt LeBlanc), have done a really good job.
The chemistry between the hosts have became better than before.
Especially on Season 25 (aired in 2018), the content is much more comparable to the original Top Gear (2002 - 2015).
Bad Qualities
Still, unlike The Grand Tour or the original Top Gear, the show still lacks some feel.
Somehow the show only had 6 episodes, just like season 23, for no reason.