THIS IS THE 250th ARTICLE ON BEST TV SHOWS WIKI
Wonder Showzen is an American sketch comedy television series that aired between 2005 and 2006 on MTV2. It often centers around a puppet called Chauncey and his puppet friends who go on very strange adventures.
Why It Rocks
The way it parodies preschool shows like Sesame Street and The Electric Company.
Very funny and decent characters
The puppet designs are okay to look at.
Memorable plots like letters and numbers being complete enemies
The jokes are really hilarious and have decent timing.
Like Drawn Together it's rude and crude but very well-written.
Great songs like "Slaves!" and "White People".
The cartoon segments have beautiful animation.
Well placed cameos.
"Hi I'm Clarence"
Bad Qualities
Overuse of toilet and gross-out humor.
Can get mean-spirited once in a while.
Reception
Though infamous by users (such as GoFags!), The show received high praises from critics alike. Matt Groening, creator of The Simpsons and Futurama said "Wonder Showzen is so weirdly funny the top of your head will burst and your skull will fly out." Cartoon Network's Adult Swim said "It's a show about kids, for freaks, and we love it."
Videos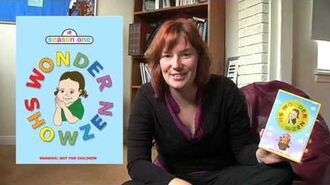 Community content is available under
CC-BY-SA
unless otherwise noted.