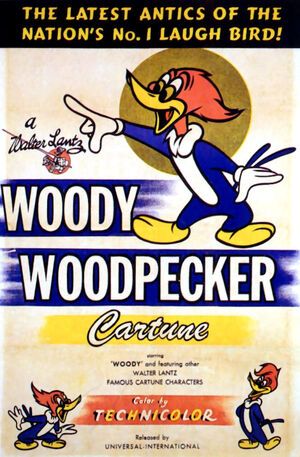 Woody Woodpecker is an American animated series of slapstick comedy short films created by Walter Lantz in 1941 and 1972, produced in Walter Lantz Productions and distributed by Universal Pictures.
Why It Rocks
Like the franchises of The Land Before Time, Despicable Me and Little Audrey (of DreamWorks Animation), it's Universal animation in its purest form.
It was Universal Studios' flagship franchise.
Since his debut, when an

Andy Panda

cartoon, "

Knock Knock

", the funny-looking woodpecker, Woody, quickly stole the show, received the best loved popularity, and became not only Walter Lantz's greatest megastar, but the official mascot of Universal Studios, as well.
Like the Chuck Jones era of Tom and Jerry (1963-1967), the shorts from the mid-60s to the early-70s didn't go downhill.
As his popularity goes on and on, he received comic books, clothing, video games, television programs and a CG-animated/live-action hybrid feature film (despite being a flop).
He had some feature film cameos, including George Pal's sci-fi classic, Destination Moon, Disney and Amblin's Oscar-winning masterpiece, Who Framed Roger Rabbit? and Son of the Mask.
Woody's popularity that brings the laughs to audiences all around the world, especially the USA, Canada and Brazil.
More than any other cartoon character (including Bugs Bunny, Little Audrey, Heckle and Jeckle and Tom and Jerry), Woody starred in more than 150 theatrical cartoons.
The theme song was totally hilarious.

Similar to the Little Audrey theme song, the jazzy version of the Woody Woodpecker theme song is wackier than ever was.

Woody Woodpecker was the true king of the slapstick comedy cartoons, so he always outsmart both Wally Walrus and his chief-adversary, Buzz Buzzard.
Universal's got the right tool of slapstick comedy.
The character of Woody Woodpecker was an all-American fine-feathered comedian.
Bad Qualities
The United Artists studio does not like the character of Woody Woodpecker, it thought Woody was too intense. But ironically, it distributed only six Woody Woodpecker cartoons. Finally, in the early 1950s, Universal decided to bring back Woody Woodpecker.
During the mid 50s, the movie industry was suffering and losing money, meaning lower budgets for cartoons. By 1956, there were only seven animation producers in the short-subjects business, and by the end of the decade that number would dwindle to three. Walter Lantz and his distributor, Universal Pictures, knew that the only way to subsidize the rising costs of new shorts was to release their product to television. Norman Gluck, from Universal's short-subjects department, made a deal with the Leo Burnett Agency to release some older Lantz product on television. However, when The Woody Woodpecker Show debuted on

ABC-TV

on the afternoon of Thursday, October 3, 1957, this show became so successful. With the success of the TV program, Walter Lantz decided to return to his theatrical cartoon business.
Since his feature film was released in theaters in Brazil, it bring his popularity in Brazil down to zero. However, it became a cult classic in America, as a direct-to-video release, despite being one of the weakest films of all time.