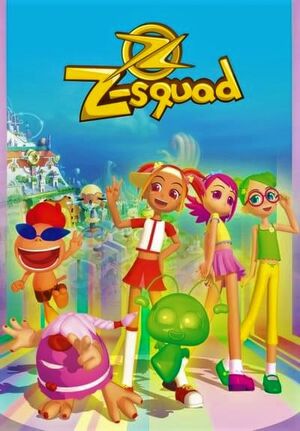 Z-Squad (Korean: 크리스탈요정 지스쿼드, The Fairies of Crystals Z-Squad) is a South-Korean-Canadian magical girl computer-animated television series created by Enemes, CJ Entertainment, and Nelvana.
Plot
Z-Squad chronicles the adventures of three ordinary preteen school girls that they turned into cute superheroines and their newfound, cuddly alien counterparts, the Zoots, as they search for enchanted crystals to save the Earth and Z-Nation from a cast of bumbling baddies. It is aimed at kids aged 6 to 9 and there are 26 x 30-minute episodes available. Girls will cheer the competitive-spirited heroines; boys will back the sarcastic preteen schoolboys called the Drop Dead Gorgeous Three (the DDG3), as well as the powerful Prince Aramis and the wise King Woolaf.
Why It Rocks
Wonderful opening and ending theme songs.
Adorable character designs.
Solid and good voice acting from the main Canadian voice actors like Alyson Court, Ashley Botting, and Sunday Muse with the supporting Canadian voice actors.
Plastic and clean Maya animation that looks like an old Nintendo 64 video game.
Interesting characters, such as Chaney, Jeanie, and Haemi.
Amazing plots and stories.
Wonderfully animated transformations.
It stays true to the original Korean version, but it was partially found to be released on DVD from CJ Entertainment.
Cute and entertaining, just like Demashita! Powerpuff Girls Z.
The English dub by Nelvana was very good.
Bad Qualities
Recycled animation is used and it's like watching too many Bratz and Butt-Ugly Martians.
Bernice's design can be scary for some people.
Some of the foreign dubs are very bad, such as the Arabic, Hebrew, Hindi, Hungarian, Polish, Romanian, Russian, and Turkish dubs.
Trivia
The series was originally released on July 17, 2004 as an original CGI animated pilot presentation at the Seoul Character Fair 2004.
The behind-the-scenes footage was released as a promotional preview.