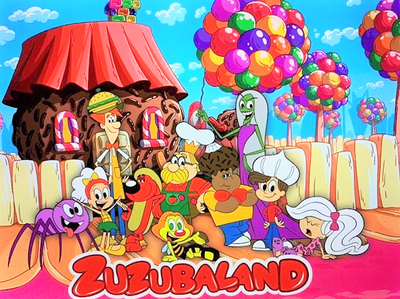 Zuzubalândia (known as Zuzubaland for the English-dubbed version) is a Brazilian animated comedy television series created by an animator, puppeteer and author Mariana Caltabiano.
It focuses on a cute and tomboyish little bee girl, Zuzu, who had green eyes, black shoes and a pink nose, and lived in a magical food-themed kingdom called Zuzubalândia.
A YouTube channel for the English dubbed version was made in June 26, 2020.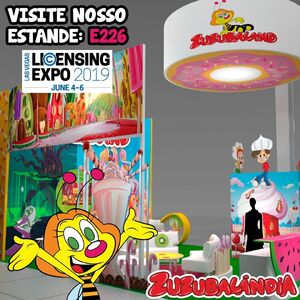 The tiny bee girl, Zuzu, was the cutest protagonist.
Zuzu's character design was pure adorable.
Zuzu looked very cute, as she wears a pair of very shiny black Mary Jane shoes, so these kids, pre-teens and teens will adore her. Cue the audiences: Awwwwwwwww...
It's good to bring Zuzu and her pals back for almost 20 years.
Cutesy animation.
Funny theme song.
"GARFIDEAAAAAAAAAAAAAAAAAAAA!!!!!!!!!!!"
It holds some of the cutesy heartwarming moments.
Tasteful soundtrack.
Great voice acting, especially for both Portuguese and English dubs.

For its infamous Spanish dub, Zuzu's girly voice sounds so adorable.

The location of Zuzubaland is pure creative.
Tasty gags.
Adorable slapstick humor.
There some special guest characters that're modeled after real celebrities such as Brad Pizza (Brad Pitt), Adam Espaghettini (Adam Levine), Justin Zieber (Justin Bieber) and many more.

Melvis is a one-shot character, who is modeled after Elvis Presley. Surprisingly, the witch was allergic to flowers, while she goes undercover as Melvis in disguise.

Many food-themed puns are very funny.
Tons of very good references, especially the Disney media.
The modified character designs was splendid.

Marsha Mallow's character design is very cute, when she had her ponytail.

It was zanier, wackier and cartoonier than a live-action series.
The characters animation style looks like a breed mixed between Harvey Girls Forever! and The Loud House (Well, Marsha Mallow looks like a scrapped character from The Loud House).
"Giant Pumpkins" revealed that Hot Dog wears his hot dog buns as his iconic outfit.
Some Celebrities make special cameo appearances, such as Bugs Bunny from Looney Tunes in "Sneeze Spell" and Stan Lee, the creator of Spider-Man, in "Spider Bro".
Although the voice acting was superb, Zuzu's voice is too femininity for the male voice actors, Daniel Costa, who also voiced Fast, Adam Spaguetini, and others and Dino Andrade, who voiced Scarecrow in the Batman Arkham Series. Looks like Zuzu needs her better voice from the voice actresses for most of these dubs for this series, especially its theatrical feature films.
Sometimes, Popcorn can be very unlikable, as she acts like an idiot, using her utter stupidity, practically in the episode, entitled "Zuzu's Diets".
While the Portuguese and English dubs sounds done-well, the Spanish dub sounds too weak.
Zuzu's singing voice was too hurtful.
The names of some of these characters are very generic, simply named after the foods' name.
Overuse of fart jokes, practically from Garfídea's.

In "Colorless Riding Hood", it revealed that Zuzu enjoying herself farting, especially when she won the farting contest, and received a prized rapunzel wig.
It was a second time, that a live-action puppet show was rebooted as a cartoon show, the first was Beany and Cecil.
The American-Brazilian English-language theatrical live-action/CGI-animated hybrid feature film has yet to be announced.
The English dub was be produced by Bang Zoom! Entertainment.

The English-dubbed version of the series has yet to be aired in the United States for the Thanksgiving holiday.
Community content is available under
CC-BY-SA
unless otherwise noted.